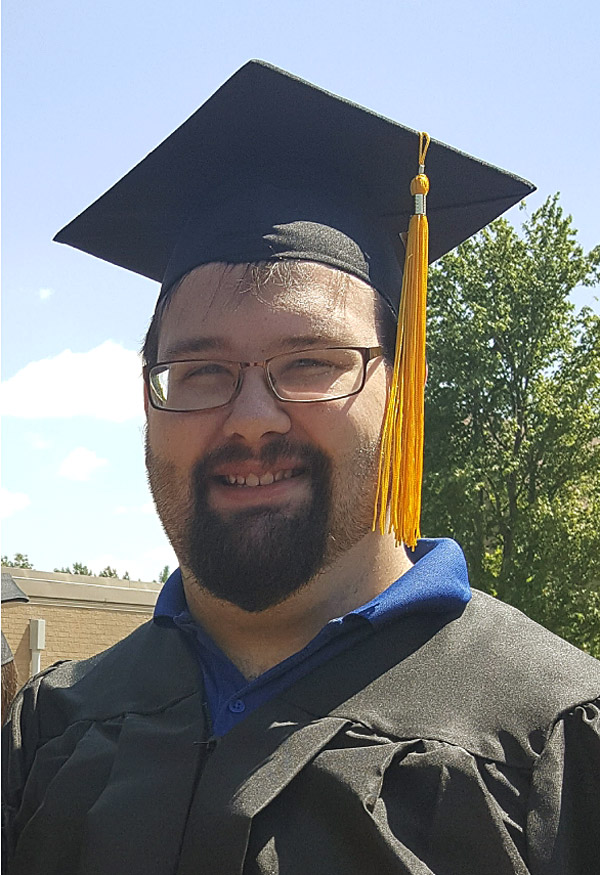 Youth Career Specialist JoDene Kern reports on her customer. "When Andrew enrolled in the Youth Services Program in June 2016, he said he had hit bottom at the age of 23. He had lost his job, was on food stamps / medical card and was trying to support his 3-month-old daughter who lived with his ex-girlfriend. Every time he telephoned, he started off the conversation 'Hi, this is your favorite screw-up.' I knew Andrew had great potential, but I had to convince him he was capable of successfully completing his education and obtaining his career goal of finding employment within the Manufacturing industry. And — he did just that!" JoDene exclaims.
"While attending Rend Lake College, Andrew was also enrolled in the Work Experience Program where he was placed at a worksite working in a warehouse to gain experience in the Manufacturing industry," JoDene adds.
"After Andrew graduated in May 2017, we worked together to complete a resume and did extensive job search. Andrew was placed as a temporary employee at Centrifugal Services, Inc., earning $11.00 per hour. On August 4, 2017, before his 90-day probationary period was up, Andrew was hired on permanently, as a result of his training and knowledge gained in the Youth Services Program. In addition, his wage was increased to $14.00 per hour," JoDene reports.
Andrew was happy to receive help with his career goals, "I didn't know what I would do without Man-Tra-Con's assistance. There is no way I could have went back to school and received my Industrial Engineering / Production Technician Certificate from Rend Lake College. With my Career Specialist's constant encouragement, I completed my training. I picked up skills in school and while enrolled in the Work Experience Program. Both were beneficial in being hired at Centrifugal Services, Inc."
"Andrew was extremely happy about being hired on at CSI and owed his success to Man-Tra-Con services. In November 2017, the mother of Andrew's daughter signed over all parental rights to him. Andrew said that everything is going right for him now," JoDene adds.