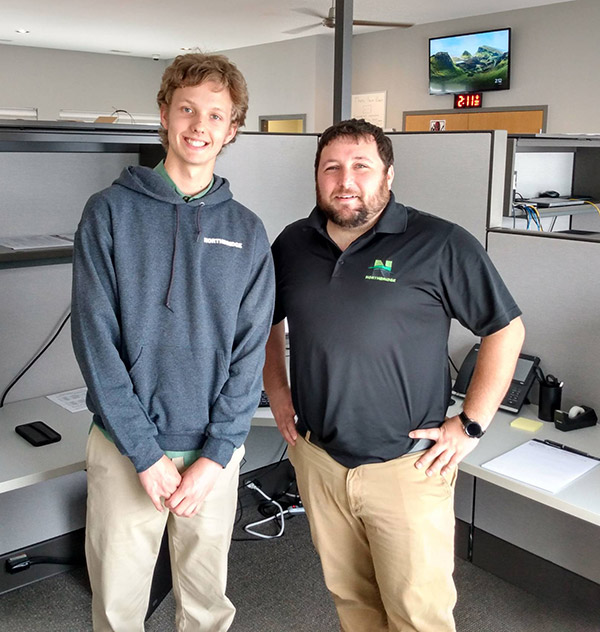 David Bjorkman (left) at Northridge Professional Technologies.
Career Specialist Jorrell Bonner reports on his customer, "David and his family recently moved from Canada to Ashley, Illinois, to run a farm. Since he was homeschooled in another country, his education was not recognized by the United States. David still needed a high school diploma, and was able to start and complete his GED online through Rend Lake College at no cost. He even received financial incentives from Man-Tra-Con every time he went to class or passed an exam," Jorrell explains.
"Rend Lake College offered a Google Internet Technology (IT) Support Professional Certification, and David took full advantage of the no-cost, 12-week online course. After working with his career specialist at Man-Tra-Con, David realized that in order to pursue his dream career in IT, he would need experience in the field. David knew that he couldn't get the experience he needed in the beautiful landscapes of Ashley, Illinois," Jorrell adds.
"David spent the next few months creating resumes, researching and identifying potential employers, and practicing interview techniques with Man-Tra-Con staff. His work paid off! I reached out to Ryan Neace at Northridge Professional Technologies, Inc., in Murphysboro, Illinois. Man-Tra-Con Business Services Administrator, Tena Studer met with Ryan and explained that Man-Tra-Con would be able to pay David's wages during his training period through the federally funded Work Experience Program (WEP). Ryan was thrilled at the idea of equipping the Southern Illinois region with a young and technologically capable workforce," Jorrell reports. 
"Man-Tra-Con also helped David purchase interview clothes and reimbursed him for mileage as he traveled to and from "in-person" interviews with Ryan at Northbridge," Jorrell adds.
"In May 2021, Northridge Professional Technologies hired David as a part-time intern/apprentice earning $15.00 per hour. Through WEP, David was able to get the experience and training he needed to help him advance his IT career," Jorrell reports.
"The work experience ended in October 2021. David immediately got a job at Walgreens Distribution Center in Mt. Vernon, also with assistance from Man-Tra-Con. David plans on eventually continuing his education and pursuing a career in I.T. after he works a bit on his own," Jorrell says.