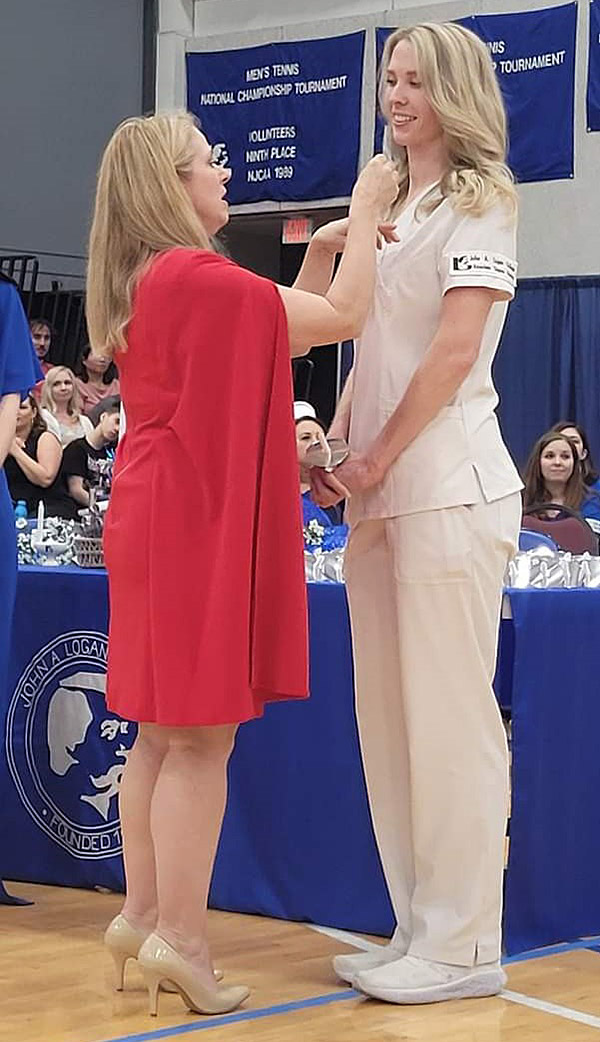 Elle at her pinning ceremony at JALC.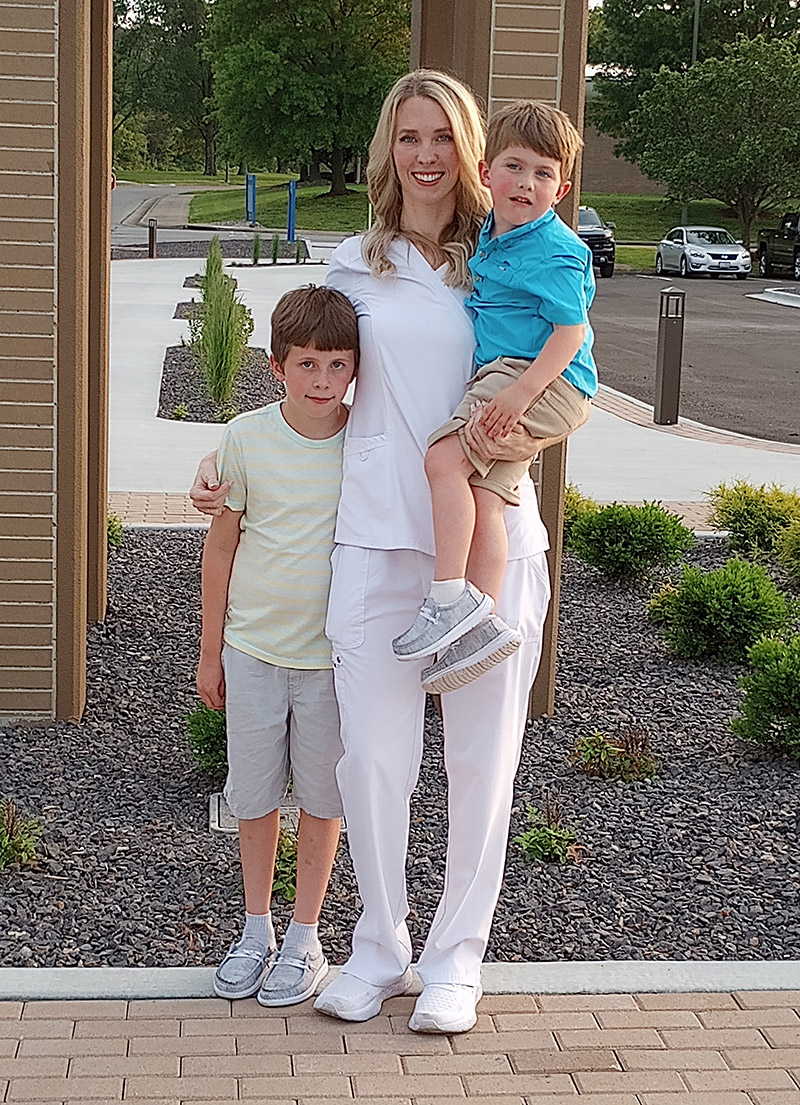 Intake Coordinator Jo Dene Kern reports on her customer. "Elle's educational journey to become a Registered Nurse began when she visited Man-Tra-Con for training assistance in September 2017. At the time, she was 23 years old, unemployed, a single mom to a 3-year-old son, and 100 miles away from family. With WIOA training assistance, she enrolled in the spring 2018 semester at John A. Logan College (JALC) to earn pre-requisite credits toward the Nursing program," Jo Dene explains.
"After completing that program, she immediately enrolled in the Workforce Career Academy at JALC, a 6-week summer program that helped her identify and focus on her career goals. She also continued earning pre-requisite credits at JALC during the fall semester of that year. In January 2019, we helped Elle create a resume to find employment while she took the spring semester off from school and married her son's father," Jo Dene adds.
"Elle enrolled in the CNA program at JALC for the fall 2019 semester, and successfully completed the program in January 2020. She continued her education at JALC to earn a Practical Nursing Certificate. Elle then enrolled in the Associate Degree in Nursing program at JALC, graduating in May 2023, and passing her NCLEX-RN exam in June 2023." Jo Dene reports.
"In December 2020, Elle had been working at Herrin Hospital as a Patient Care Technician, getting promotions over the years as she earned more credentials. She is currently employed as a Registered Nurse (RN) at Herrin Hospital, earning $29.29 per hour," Jo Dene says.
"Elle recently informed me that she has enrolled in the fall 2023 semester at McKendree College. She will be taking online classes to continue with her BSN and said, 'I don't plan on stopping there,'" Jo Dene adds.
"Elle came in as a single mother, ready to go after her career goal. During her 6 years in school, she got married, had a second son, got divorced —all while maintaining high grades and full-time employment! Elle is determined to continue with her education to eventually become a Physician's Assistant. With her critical-thinking/problem-solving skills, hard work, and determination in spite of difficulty, there is no doubt Elle will fulfill her dreams and provide a good life for her 2 boys," Jo Dene says.
Elle was grateful for the assistance she received from Man-Tra-Con. She sent us a "Thank You" card saying, "So happy to have had the pleasure of working with you these past few years. Thank you for all your help and kindness through this journey! If it were not for WIOA services, I would not have been able to go to school for my Nursing degree."