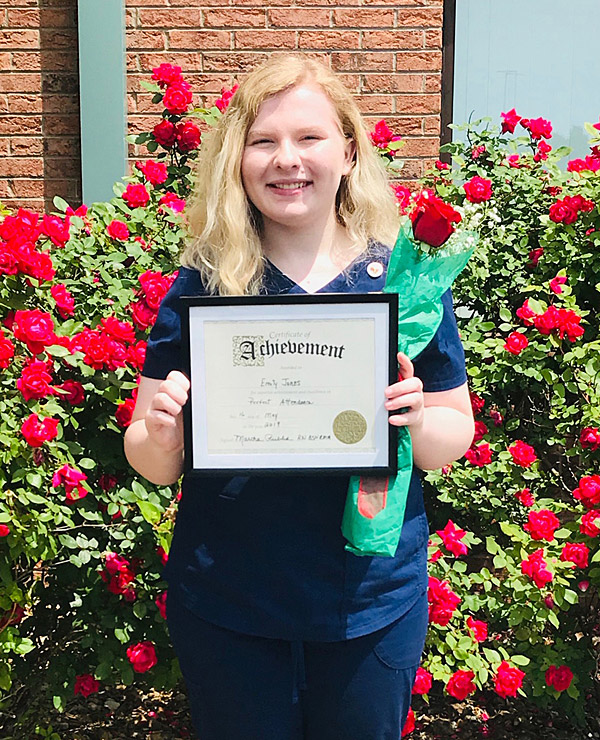 Career Specialist Amy Durfee reports on her customer. "In August 2017, Emily walked into the American Job Center in Marion seeking training and job search assistance. I met with Emily and her mother after an orientation session and discovered that Emily had been homeschooled for the last few years," Amy explains.
"Emily needed to complete her high school diploma or GED and was enrolled into our Youth program. Since Emily was only 17 at the time, her mother attended the appointment to sign the necessary paperwork. Emily and her mother were amazed at the variety of our programs and what we could do to help Emily complete her GED, go on to college, and find a job," Amy adds.
"Emily completed her GED with WIOA funded support and completed the Healthcare Bridge program. Emily received a scholarship from the John A. Logan College GED Healthcare Bridge program to enroll in the C.N.A. program at JALC. Our youth programs provided support for Emily to complete the C.N.A program and go on into the C.M.A. program at JALC," Amy reports.
"Emily completed the C.M.A. program on May 9th, 2019, and was awarded a perfect attendance award for not missing a single class or externship day for the whole 2-semester program," Amy adds.
"In June 2019, Emily accepted a job as a Certified Medical Assistant with Southern Illinois Healthcare in Carbondale, Illinois," Amy says.
Emily states, "I am very thankful for the programs that Man-Tra-Con offers. They have helped me get my GED, C.N.A, and C.M.A. I am very grateful for everything that they have done for me."