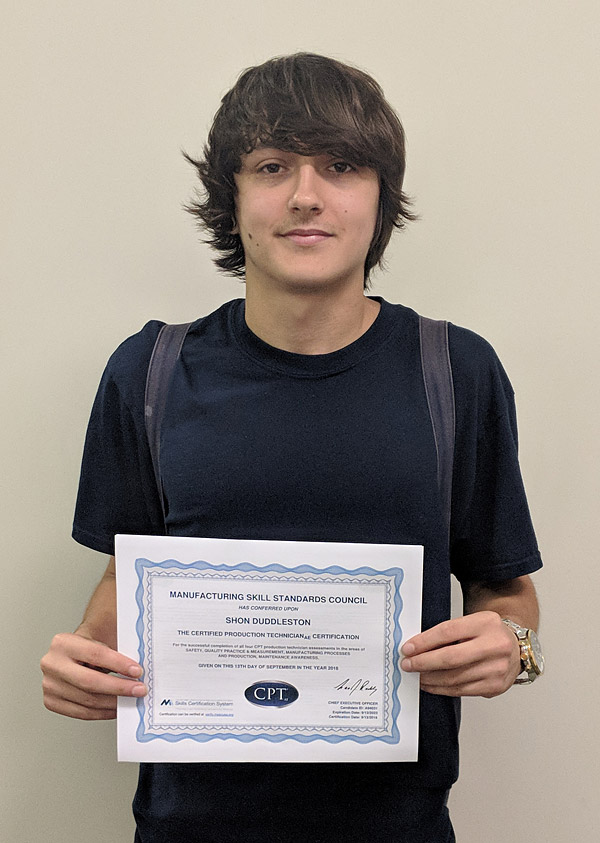 Career Specialist Mary Sloan reports on her customer. "In February 2018, Shon came to Man-Tra-Con Corporation for career assistance. He had been receiving food stamps from the Department of Human Services' Supplemental Nutrition Assistance Program (SNAP) program, and was referred to us from the Department of Children and Family Services (DCFS). He had aged out of foster care and was now living on his own—with felony charges pending against him. Despite the barriers he faced, Shon was determined to push through it all and make something of his life. He enrolled in the Youth Apprenticeship program and began the MSSC/CPT training program in March 2018, to pursue a career in manufacturing. Although the classes were tough, Shon was determined to complete them, and worked additional days to finish the program," Mary explains.
"While in the MSSC program, Shon began working at Pepsi through an On-the-Job-Training (OJT) opportunity. While working at Pepsi, Shon realized he needed to purchase a car and get his driver's license. He tried saving as much as he could each week toward the down payment to purchase a car. It was a difficult task, since he was only earning $10.00 per hour. However, just like Shon's other goals, by October, he had found a way to get his license and the car he needed!" Mary exclaims.
"In December 2018, Shon began working at Intertape Polymer Group (IPG) in Carbondale earning $13.00 per hour through the Work Experience Program. Shon was very thankful to be working for IPG. He found that he enjoyed factory work and learned so much during the program. The employees were very good to Shon and taught him many things. Before working at IPG, he had never owned tools and did not have anyone to show him the proper use of those tools. Randy, an instructor for the MSSC Program, also took time to show and teach Shon about the various tools he would be using on the job," Mary adds.
"While Shon was enrolled in the MSSC program, we had also referred him to one of our partnering agencies—Land of Lincoln Legal Services—for assistance with his pending felony charge. In February 2019, Shon called to let us know that the judge had dropped all pending felony charges against him, and told him to keep up the hard work. Shon felt like a weight had been lifted off of his shoulders and that he could finally put the past behind him," Mary reports.
"Shon completed the MSSC program, received his certificate, and was hired by IPG as a full-time employee in March 2019. After a 90-day probationary period, Shon became a Labor Union member and is currently earning $15.62 per hour," Mary adds.
"I have checked on Shon several times since then and he has thanked us so much for checking in on him, and helping him to get back on his feet. I told Shon how proud we were of him and that he was a true success! When all odds were against him, and he felt his back was pushed against the wall, he never gave up. Because of his strength and dedication, he is able to say that things can be done if you're willing to try hard and not let anything stand in your way," Mary says.