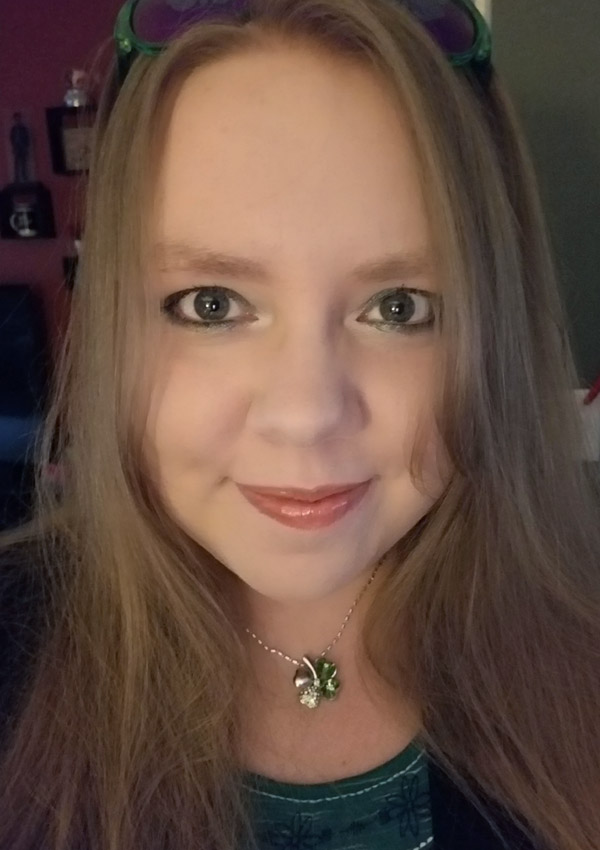 ​Elysia visited Man-Tra-Con for assistance in April 2016. She was determined eligible to receive services provided through the EPIC grant program for work readiness and post-secondary training. Career Specialist Tena Studer reports on her customer, "When I first met with Elysia, I learned that she had suffered from bullying in school, and had experienced many years of extreme social anxiety, which prevented her from leaving her home. As a result, she decided to complete her high school diploma from home."
"After receiving many years of counseling, Elysia felt she was ready to get out and make some changes in her life. She began meeting with me for career counseling and job search assistance. We discussed her anxieties and long-term goals at length. We worked on developing a professional resume, discussed work ethics, and practiced mock interviews. I remember telling her that I was her personal cheerleader, and I would be with her during all of the new changes that were going to be taking place," Tena explains.
"Elysia enrolled at John A. Logan College (JALC) to earn a certificate in Medical Billing and Coding. I took her on a tour of JALC, and helped her find the different departments that she would need for her classes. We also set up an appointment with the director of the program, so that Elysia would feel more comfortable when starting classes," Tena adds.
"Elysia decided to start with one class over the summer to see how she would do. After completing the class with a rating of 105%, she knew this was the right path for her. By the middle of fall semester, she was excelling in all classes. Elysia decided that she would like to earn more than a certificate in Medical Billing and Coding. She wanted to remain in school and work toward receiving a degree in Health Information Technology. In addition, she volunteered at the local library a few hours a week, and tutored other students in the biology lab." Tena reports.
"I couldn't be prouder Elysia and her success. I have no doubt that she will be a success in anything she pursues," Tena adds.
Man-Tra-Con Career Specialists Christina Abbott and Autumn Basler also provided Elysia with career development and job search assistance as she worked toward achieving her goals.
Elysia describes her exerience, "Most of all, the program helped me achieve the confidence to go out in the world and accomplish all the things I had only ever dreamed of before. My Career Specialists encouraged me every step of the way; from day one of meeting with them, to meeting with educational specialists, to deciding what degree I wanted to ultimately go for — the entire way through my schooling. The program helped me build my communication skills, provided opportunities for me to participate in two internships, helped me update my resume, and obtain the required education for my career field."
"While enrolled in college, I was still able to receive [Supplemental Nutrition Assistance Program] SNAP benefits, as well as financial aid (FAFSA). Without these things, I would not have been able to take care of my basic needs or dress for the success I was working to attain. The program also made it so I could travel to college, my internships, and school related functions with the aid of mileage reimbursement," Elysia adds.
"As a result of the program, I am ecstatic to say that I am currently employed as a Coding Specialist for a successful surgical management facility—they hired me on while I was still and intern. I am on my way to earning my Registered Health Information Technology credentials very soon also! I managed to maintain a 4.0 GPA throughout my schooling, placed on the President's List every semester, earned a TRIO scholarship, earned a Presidential Scholar award as well as a scholarship, and won the American Health Information Management Association (AHIMA) Huffman award for my Health Information Technology degree program. My life has completely changed for the better. I wouldn't recognize the woman that timidly began this program any longer. I am so proud of the accomplishments I've made and am eternally grateful to the suport this program afforded and the wonderful people that have stood at my side along the way. Thank you!!" Elysia exclaims.
Career Specialist Autumn Basler adds, "Elysia completed the Health Information Technology Associate Degree Program at John A. Logan College in Carterville, Illinois in May 2018. She is currently working remotely from home as a Coding Specialist for a surgical management company in South Dakota, earning $18.50 per hour. We are so proud of her!"