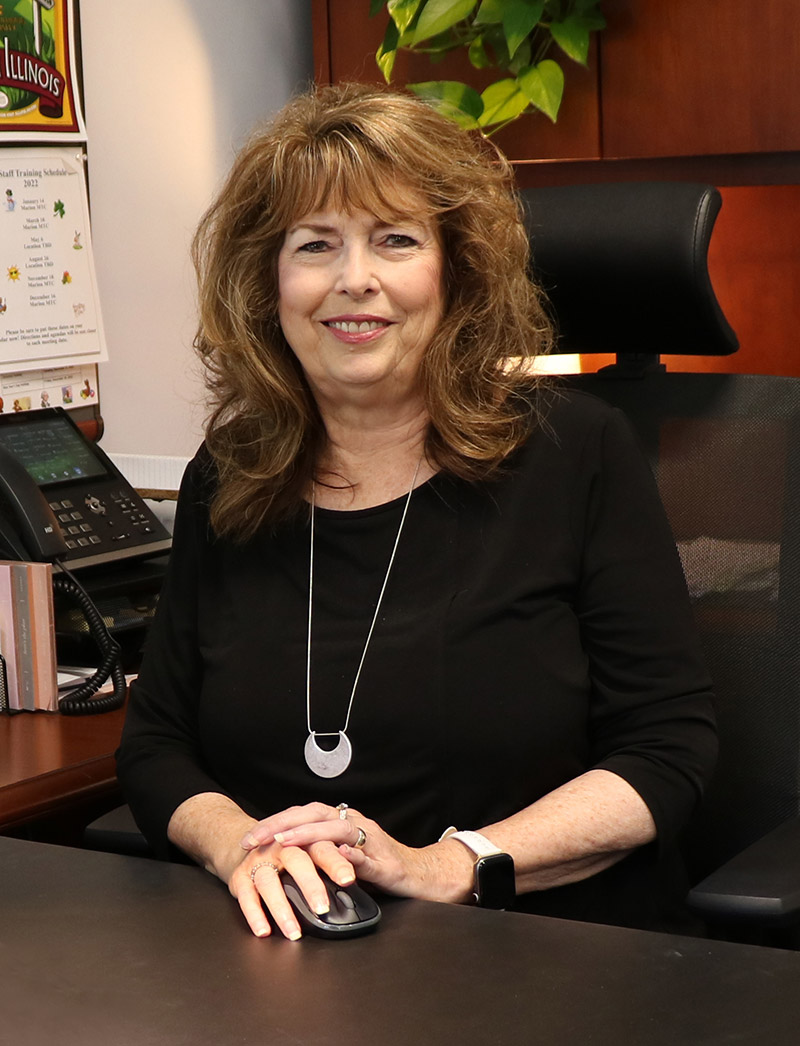 Kathy Lively, CEO,
Man-Tra-Con Corporation
September 1, 2022 (Marion, Illinois) — After more than 35 years serving Southern Illinois with compassionate leadership and a firm commitment toward education, workforce and economic development initiatives, Kathy Lively, CEO at Man-Tra-Con Corporation, has announced plans to retire by the end of the year. Ms. Lively will be actively involved with the Man-Tra-Con corporate board and the Southern Illinois Workforce Development Board as they work to find an ideal candidate to fill her position. Lively plans to work onsite at Man-Tra-Con during the transition to new leadership, offering guidance and assistance as needed.
Service to the community
Kathy Lively, who holds a Master's Degree in Workforce Education and Development, began her work in Adult Basic Education in 1987, culminating as Associate Dean of Adult Basic and Secondary Education at John A. Logan College. In 2003, Lively joined Man-Tra-Con Corporation as Executive Director, and in 2006 was given the title of Chief Executive Officer as her leadership and involvement with multiple community initiatives grew. It was at this time Kathy and multiple partners created opportunity centers in response to both the Maytag and TUMS plant closures that rocked the region. Kathy Lively currently serves as staff to the Southern Illinois Workforce Development Board collaborating with multiple state agencies and economic development partners. She also participates on the Regional Economic Development Corporation, Greater Egypt Planning and Development Commission, and Jefferson County Development Corporation boards. Lively serves on the Advisory committee of SI NOW! — a regional initiative created to attract a skilled workforce and new employers to the southern Illinois area. In addition, she leads a 19-county Apprenticeship Expansion grant with a team of partners from southern Illinois, and a Delta Regional Authority WORC Grant for an Aviation Technician Program.
Lively has been President of the Illinois Adult Education and Community Educators Association and the Illinois Workforce Partnership (IWP). She has served as Executive Director of the ConnectSI 20-county economic development initiative focused on Broadband deployment in rural southern Illinois. She has also served as the Illinois delegate to the Delta Regional Authority Leadership Network.
Kathy Lively has worked tirelessly with regional partners to offer employment and training services to dislocated workers affected by plant closures, helping them transition to new careers and employment — especially Maytag (1,000 employees) and TUMS (500 employees). She led the team that provided National Emergency Grant assistance to residents of Saline County, helping individuals and businesses recover from tornado damage and flooding. Kathy states "Our team of dedicated professionals makes any 'outside the box' idea a reality."
Over the years, Kathy Lively has received multiple honors for her leadership and dedicated service to the community. Recognitions include: the Southern Business Journal's "Women in the Know" in June 2017; Southern Illinois University's "Inspiring Women of Achievement Award" in 2008; the Southern Business Journal's "Leader Among Us" in 2006; and the 2007 Governor's Workforce Conference Individual Leadership Award for her contributions to workforce/economic development.
"It has been a privilege to work with so many amazing partners to improve the well-being of job seekers and employers in beautiful Southern Illinois," Kathy Lively says. 
Terance Henry, Chairperson for the Southern Illinois Workforce Development Board, says, "For 35 years, Kathy Lively has given her heart and soul to make Southern Illinois a better place to Live, Work, and Learn. She has cultivated the lives of many and will truly be missed."
#     #     #