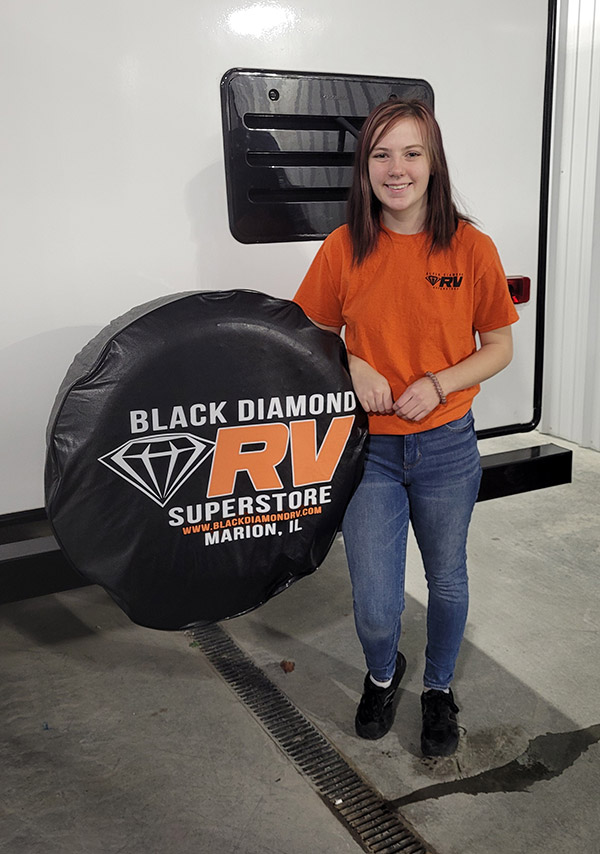 Career Specialist Jo Dene Kern reports on her customer. "When I met Faith in September 2020, I learned that she had dropped out of high school during her sophomore year because of a learning disability. Faith had very little work experience. She had been employed for 10 hours per week at a dog breeding facility, working for less than minimum wage," Jo Dene explains.
"Faith enrolled in the GED Adult Education program at John A. Logan College (JALC). Although Faith said she had a learning disability, she 'dove right in' and took the practice tests. Her scores did not reflect any problems, and Faith was so excited! We scheduled her first GED exam—Science—and she passed. Faith went on to pass 3 more exams, and obtained her GED in 6 weeks," Jo Dene exclaimed!  
"I discussed our job search services with Faith. I also asked our Business Services Administrator, Tena Studer, to place Faith in our Work Experience Program (WEP)—even though she was only 17 years old. I said, 'She is a hard worker, and needs the experience,'" Jo Dene adds. 
"In November 2020, Black Diamond Harley-Davidson RV hired Faith for a position detailing campers through the Work Experience Program. When Faith completed her WEP in February 2021, Black Diamond Harley Davidson RV hired her for a full-time Detailer position, paying $11.00 per hour," Jo Dene reports.  
While working full-time at Black Diamond Harley-Davidson, Faith enrolled in the Cosmetology degree program at John A. Logan College, and began classes in May 2021. Faith appreciates the assistance she received from Man-Tra-Con.
"When I came to Man-Tra-Con, Corp for help, I needed assistance in completing my GED, and gaining work experience. My dream was to get my High School Equivalency Certificate, find a job, and possibly enroll in post-secondary education. I knew I needed help in accomplishing my goals, so I sought out the help of Man-Tra-Con. I was amazed how quickly it happened, and so appreciative of the support I received, during my enrollment in the youth services program," Faith says.