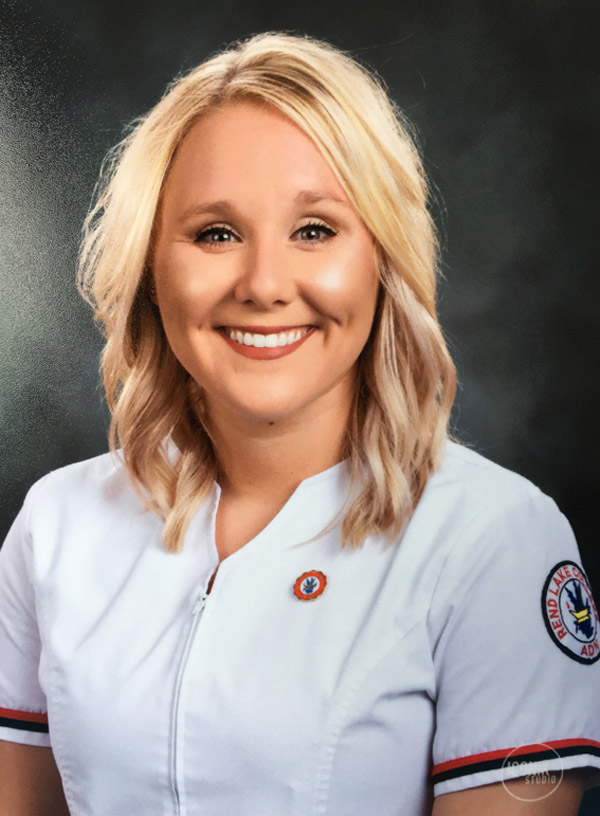 Career Specialist Michelle Sanchez reports on her customer, "Loghan lived alone and provided 100% of her own support working as a Certified Nursing Assistant (CNA), earning less than $10 per hour. Loghan was struggling, but she did not have the experience or education to earn a higher wage. Prior to entering the healthcare field, she had worked at a variety of food and retail shops. Loghan's first healthcare job was at an assisted living facility. It was there that she decided she wanted to pursue a career in healthcare. However, in order to obtain a permanent, full-time, self-sufficient job in healthcare, she needed training."
"Loghan visited Man-Tra-Con seeking training assistance and, due to her low income, was determined eligible for WIOA services. In fall 2015, she decided to enroll in the nursing program at Rend Lake College. Throughout her training, Loghan received assistance to help pay for school tuition, school fees, supplies, tools, uniforms, testing and licensing fees, textbooks, plus mileage reimbursement to class and clinical sites. While enrolled with Man-Tra-Con, Loghan successfully completed 50 credits toward her training program. She also earned an Associate Degree in Nursing and obtained her professional license to work as a registered nurse (RN)," Michelle reports.
"After successfully completing the program, Loghan was eligible to accept a position as an RN, and her wages more than doubled. She currently works in the critical care unit at SSM Health Good Samaritan Hospital in Mt. Vernon, Illinois. In addition to performing basic and complex RN skills, Loghan's job duties include assessment and critical thinking to manage patients and maintain their safety. Although has Loghan only recently begun this new RN position, she has been with the same employer for almost three years. She enjoys working with the staff at SSM Health Good Samaritan Hospital, and she loves the complexity of her new role: 'It's very exciting to be introduced to this type of environment as a new nurse. I love how much I am learning and am excited to continue to learn,' she explained. According to Loghan, Man-Tra-Con's supportive services allowed her to 'put aside the extra stress of finances and focus on [her] goal of becoming a registered nurse,'" Michelle adds.