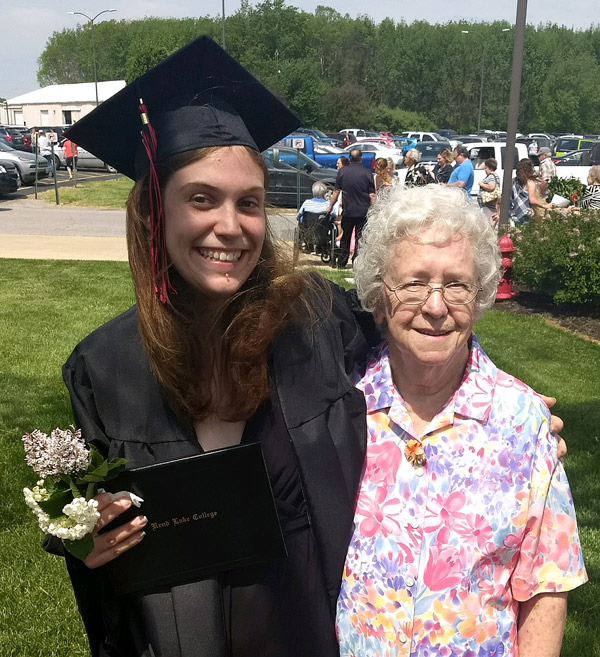 Lindsay with her Grandmother
Stacey Barnes reports on her customer. "Lindsay Johnson was a single parent, out-of-school, and unemployed for 11 months when she began receiving Workforce Innovation and Opportunity Act (WIOA) training assistance through the Youth program in April 2016. She had been receiving Supplemental Nutrition Assistance Program (SNAP) benefits but needed assistance to obtain an education and discover a promising career path. Lindsay was seeking a profession that would allow her to provide for her family and also do something that she truly enjoyed," Stacy explains.
"As a single parent and member of a low-income household, Lindsay was eligible to receive assistance through WIOA services for mileage reimbursement, childcare costs, referrals to partner agencies, job shadowing, resume preparation, career guidance, FAFSA completion, plus support and encouragement," Stacy adds.
She also received additional services from partnering agencies to help her succeed. Lindsay obtained housing at a reduced rental rate through the U.S. Department of Housing and Urban Development (HUD); financial assistance from Temporary Assistance for Needy Families (TANF); and childcare services from Project Child while Lindsay worked at her part-time job and attended school," Stacy reports.
"Initially, Lindsay was interested in training for a career in healthcare, but she eventually realized that it was not the best fit for her and her family. Through WIOA program services, Lindsay was able to job shadow at a local automotive business and found that her true calling was in the automotive field. She decided to enroll at Rend Lake College for the fall 2016 semester to work toward her Automotive Technology degree," Stacy explains.
"While in the program, Lindsay worked hard and received high grades for all her classes. She obtained an Automotive Electrical certificate, Automotive Technology certificate, Automotive Transmission certificate, Automotive Air Conditioning certificate, and an Automotive Brake certificate. Lindsay also received 14 credit hours for the fall 2016 semester and 12 credit hours for the spring 2017. Lindsay completed her program at Rend Lake College in May 2018, with a GPA of 3.795." Stacy reports.
"Lindsay has been working 10 hours per week as a Cashier for AutoZone in Mt. Vernon, Illinois, while attending school, but she is not done yet! Lindsay will continue her education and has enrolled in the fall 2018 semester at Southern Illinois University in Carbondale to earn a Bachelor's degree in Automotive Technology. Lindsay continues to accelerate!" Stacy exclaims.