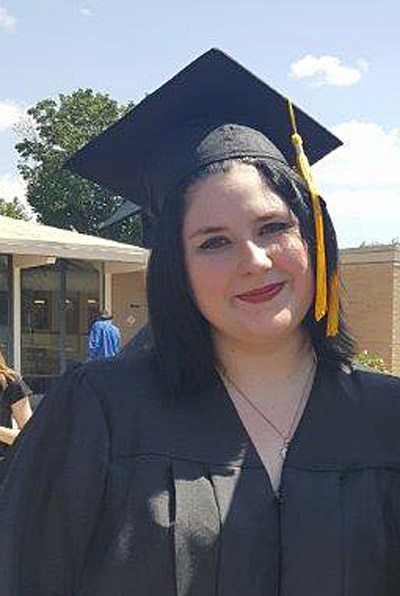 Jo Dene Kern reports on her customer. "In June 2018, when Nicole enrolled in the Youth Services Program, she was 23 years old, a high school dropout, deficient in reading, and unemployed. She immediately began taking GED classes at Rend Lake College in Ina, Illinois. Nicole also attended a Career Path Workshop developed as part of the Work Experience Program (WEP) administered by Man-Tra-Con," Jo Dene explains.
"In the fall of 2016, Nicole enrolled in the Certified Production Technician Manufacturing Technology/Bridge Program at Rend Lake College. She took classes in Manufacturing while continuing to work on getting her GED certificate. Nicole worked hard and received top grades in all her classes. In the same month (May 2017), she received both an Occupational Certificate and her GED!" Jo Dene exclaims.
"Nicole had found part-time employment at a local grocery story as a cashier, but her career goal was to eventually work in manufacturing. After completing the WEP Career Path workshop in September 2017, she was placed in a 3-month paid WEP position at Magnum Steel Works, Inc., in Mt Vernon, Illinois. At this position, she was able to use her newfound skills, and gain "real-world" experience while earning wages. During her participation in the Work Experience Program, Nicole also earned a Certificate of Completion for her Operator Safety Training course. In December 2017, Nicole began a 6-month On-the-Job Training (OJT) position at Magnum Steel Works, Inc. in Mt. Vernon, Illinois," Jo Dene reports.
"By the end of June 2018, Nicole Mullins had successfully raised her reading TABE score, obtained her High School Equivalency GED certificate; and received an Occupational Skills certificate; enrolled in the Work Experience Program; attended a Career Workshop; and after receiving assistance with job search and resume preparation, was placed at WEP Worksite. This lead to a 6-month OJT position, that resulted in Nicole obtaining a permanent, full-time job as a Shipping/Receiving Clerk, where she is currently earning $12.00 per hour, at Magnum Steel Works in Mt. Vernon," Jo Dene adds.
Nicole says, "I didn't know what I would do without Man-Tra-Con's assistance. There is no way I could have gone back to school and received my GED and Industrial Engineering/Production Technician Certificate from Rend Lake College. With my Career Specialist's constant encouragement, I completed my training. I picked up skills in school, and while enrolled in the Work Experience Program. This was beneficial in qualifying for OJT for 6 months and being hired at Magnum Steel Works, Inc."