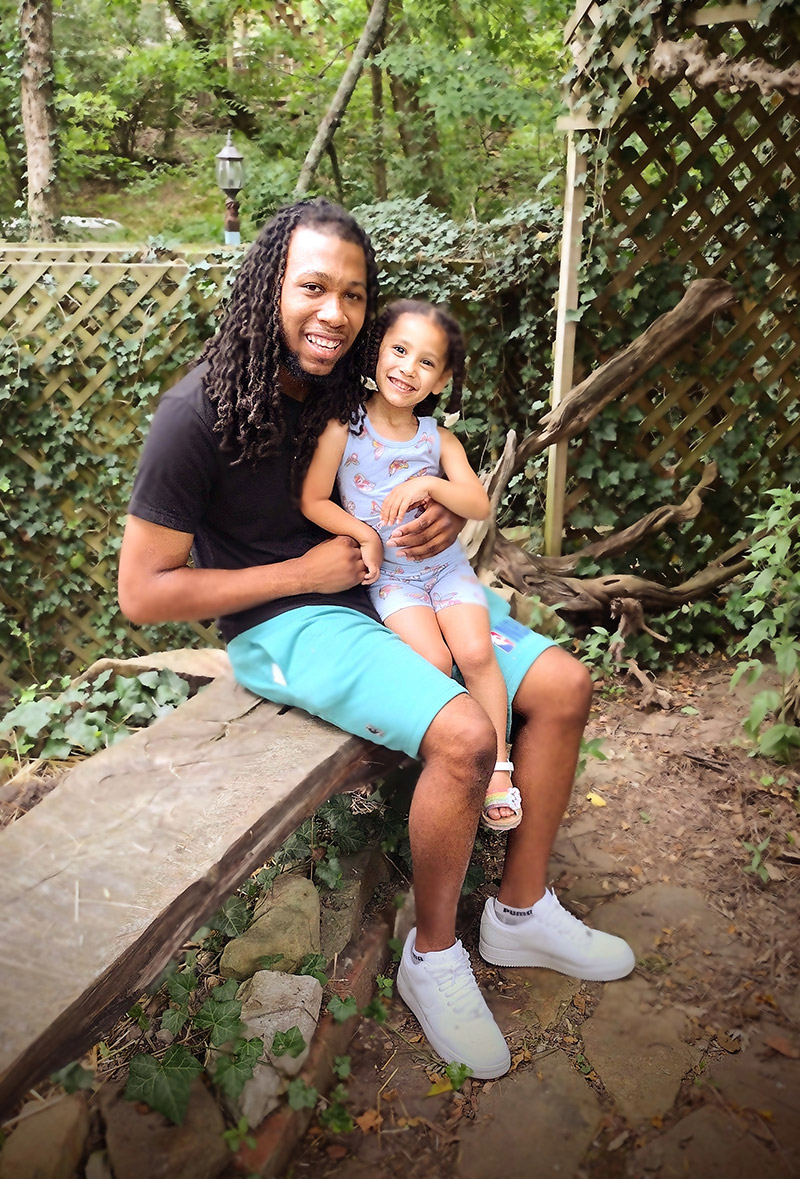 Jeremiah with his daughter.
Youth Career Specialist Kelley Essary reports on her customer. "Jeremiah had been enrolled in the Automotive Services Technology program at John A. Logan College (JALC) when he came to Man-Tra-Con for WIOA training assistance in January 2022," Kelley says.
"Jeremiah had several barriers to overcome. The first in his family to attend college, Jeremiah had very little guidance from family members or friends when it came to navigating his educational path. In addition, since becoming a father at the age of 17, Jeremiah had to balance the responsibilities of parenthood with his academic pursuits," Kelley adds.
"Jeremiah's decision to attend John A. Logan College proved to be a turning point in his life. The supportive environment and dedicated instructors at the college played a crucial role in his success. Through his hard work, initiative, and unwavering commitment, Jeremiah quickly caught the attention of his professors, who were more than willing to provide guidance and support," Kelley says.
Jeremiah discovered the power of hard work and networking, recognizing that relationships and connections are just as important as knowledge.
"When you work hard and your instructors see that you are applying yourself and you care, they pay attention to that. They want to help you succeed. The biggest obstacle I faced was that I didn't have people around me or in my life that were going to college, or were on that track… I am the first generation of my family to get a degree," Jeremiah says.
In Spring of 2023, Jeremiah graduated from JALC with high grades, was elected Student Representative, and was asked to speak at his commencement ceremony. He plans to continue his education at Southern Illinois University, Carbondale, working toward earning a bachelor's degree. His long-term goals are finding stable employment, purchasing a home, getting married and expanding his family.
"Education is often seen as the key to success, but for some, the journey towards academic achievement is riddled with obstacles. Jeremiah, a recent graduate of John A. Logan College, embodies the spirit of perseverance and determination. Overcoming numerous challenges, he emerged as a top student in his graduating class, serving as an inspiration to his peers and a shining example of what can be achieved with hard work and dedication," Kelley Essary reports.
"Jeremiah's success story is a testament to the transformative power of education, personal determination, and community support. He credits being a part of Man-Tra-Con as a contributor to his achievements. He expressed how much the financial assistance and support of the staff meant to him. Jeremiah made the most of all that Man-Tra-Con had to offer, and always did his part to be a part of the program. His determination, resilience, and unwavering belief in himself have paved the way for a brighter future. With his positive attitude and strong work ethic, there's no doubt that Jeremiah will continue to achieve remarkable accomplishments as he pursues his dreams," Kelley adds.